Tell your Friends about PhotoRenamer 4.1
---
PhotoRenamer 4.1 Menu
Fast Track
Help Video: Quick Tour
What's New in PhotoRenamer 4.1
Feedback and Awards of PhotoRenamer 4.1
Download Counters of PhotoRenamer
Safe Use of PhotoRenamer 4.1
TGMDev PhotoRenamer History
Renaming Mask
Fast Track
Renaming Photos with PhotoRenamer 4.1
Mask Format Specifications
Edition of Renaming Masks of PhotoRenamer 4.1
Handling of Duplicates
File Extension
Files Selection
Fast Track
Files Selection
Help Video
Special Specifications
Fast Track
Keywords Specifications
Keyboard Entries Specification
Picture Counter Specifications
Meta Data
Exif Meta Data
IPTC Meta Data
User Interface
Fast Track
Ribbon Category 'Home'
Ribbon Category 'Photo Rename'
Ribbon Category 'Details'
Ribbon Category 'Options'
Ribbon Category 'View'
Ribbon Category 'Help'
Registering, Feedback and Support
Registering PhotoRenamer 4.1
Feedback about PhotoRenamer 4.1
Support of PhotoRenamer 4.1
---
About PhotoRenamer 4.1
Language:
Visual C++
IDE:
Microsoft Visual Studio 2017
App. Version:
4.1
Appl. Size:
7.83 MB (8.219.136 bytes)
Creation Date:
11-Mar-‎2018 ‏‎19:36:26 (GMT+1)
Link Type:
Statically Linked
Installer Size:
9.43 MB (9.892.153 bytes)
Installer Date:
‎11-Mar-‎2018 19:39:15 (GMT+1)
---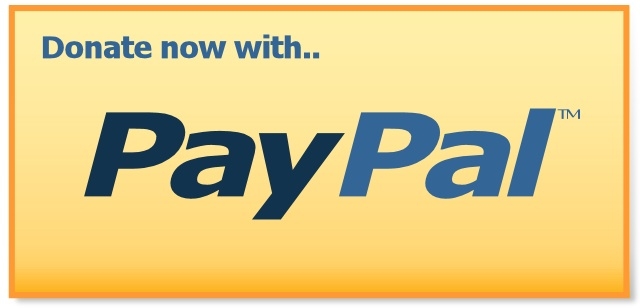 Thanks for bringing support to TGMDev
through PayPal Donations...
---
Registering PhotoRenamer 4.1

On Exit of the application, unregistered users are invited to register to PhotoRenamer 4.1.





Registering PhotoRenamer 4.1 is Free !!!



The registration is requested to gather information for usage statistics and send newsletters. TGMDev will never transfer your email to third parties.




To register, enter the following data:
First Name
Last Name
Email Adress : Note that a mail will be sent to the TGMDev Server, so invalid email won't allow a valid registration !!!
Country
and click on the button 'Request Registration Key'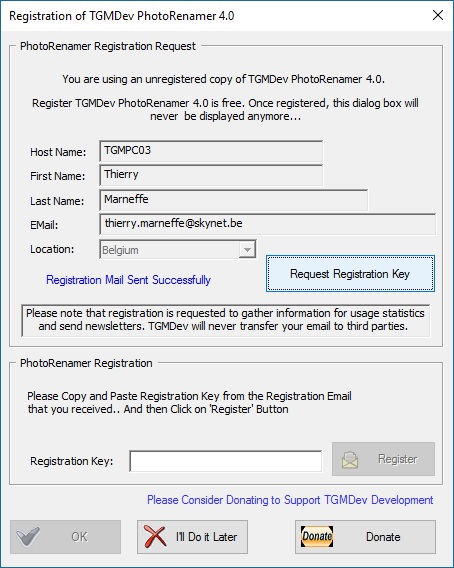 After a few seconds, a mail should enter your mail box with your registration code. It should look like this ...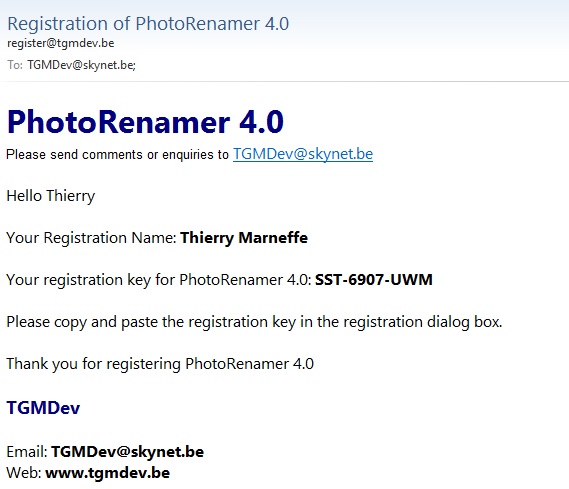 The next steps are:
Copy the registration code (from the mail body) to the clipboard
Paste the registration Code to the Dialog Box: Note that Only Valid Registration Code enables the 'Register' Button
and click on the button 'Register'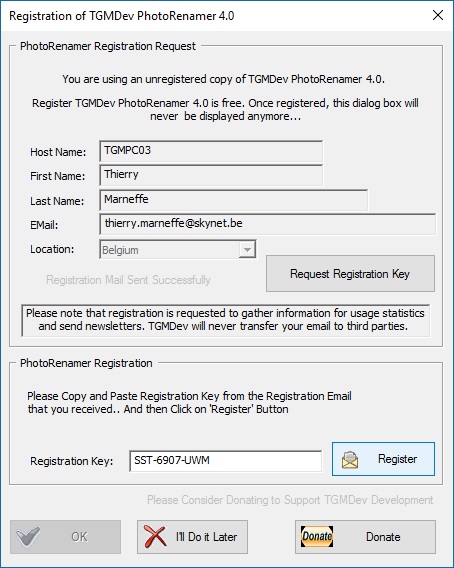 Once the Registration is activated, the 'Ok button is enabled ..

You can always postpone the registration by clicking on 'I'll Do Later'. Note that the request be be activated again on next session exit.